Calgary Neighbourhoods Map 2021: Illustrated Map of Calgary Communities
Calgary Neighbourhoods Map 2021: Illustrated Map of Calgary Communities
A bustling metropolis, Calgary is always changing. If you find it challenging to keep track of the city's ever-changing communities, you're not alone. That's why we've created this cool, illustrated Calgary neighbourhoods map, complete with popular landmarks and a list of the city's biggest neighbourhoods. Feel free to share it with your friends and neighbours.
Let's take a look at some of the city's remarkable points of interest and a few of the communities around them.
Map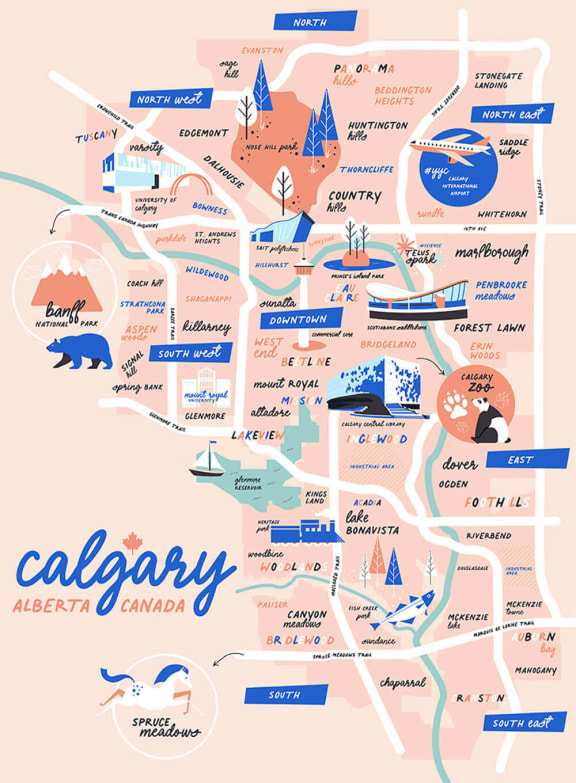 ---
Calgary
Inner City and Downtown
Downtown Calgary and the surrounding inner-city communities make up the hub of the city. With shopping, food, leisure activities and a thriving business district, this area is ideal to work and live in. With a range of rental options from affordable to luxury, neighbourhoods like Beltline, Mission and Downtown have something to offer for every budget.
Points of Interest:
Calgary Central Library – The flagship branch of the Calgary Public Library, the Calgary Central Library is an iconic piece of architecture that won a design competition in 2013. It features an oval-like form and a large central atrium with a skylight. With four storeys that are elevated one floor above street level to accommodate the C-train below, the library has meeting spaces, a 340-seat theater, a café and space for 450,000 titles.
Scotiabank Saddledome – It's hard to think of Calgary without picturing the Saddledome. Built in 1983, it's home to the city's NHL team and a multi-use arena. The building also draws crowds for concerts, conferences and a number of other sporting events.
---
Northwest & North
With recreational spaces and one of Canada's top universities, the northwest and north quadrants of Calgary have a number of great communities, like Varsity.
Points of Interest:
University of Calgary – One of Canada's top research universities, U of C is located in the northwest quadrant of the city. Spanning over 530 acres, this important institution houses 250,000 undergraduate and 5,000 graduate students in 14 faculties. Featuring Brutalist and Postmodern buildings most of the university was built between the 1960s and 1980s.
Nose Hill Park – Bordering the north and northwest quadrants of the city lies the fourth largest urban park in Canada. Covering over 11km2, you'll find a number of hiking trails and dedicated off-leash areas in Nose Hill Park. It's the ideal place to experience nature, including a variety of wildlife, right in the city.
---
Northeast & East
Busy communities with strong international influences, the northeast and east quadrants of the city have a lot to offer. Worldly eateries, new developments and a thriving job market make these communities a great place to call home.
Points of Interest:
YYC – When you need a little break from Calgary's chilly winter temperatures, you'll find yourself heading to the northeast quadrant of the city to Calgary International Airport. The fourth busiest airport in Canada, YYC also serves as headquarters for WestJet.
---
Southeast & South
For family-friendly amenities, the southeast and south quadrants of the city have a lot to offer. Communities here offer a lot of diversity as well as a range of conveniences from shops to trendy restaurants to fitness studios.
Points of Interest:
Fish Creek Park – A provincial park located in south Calgary, Fish Creek Park is a natural, forested sanctuary. Joining the Bow River on the east side, Fish Creek flows the length of the park. With over 100km of trails, the park is popular among Calgarians for a range of outdoor activities, like hiking, cycling, swimming, and fishing.
Spruce Meadows – Opening in 1975, Spruce Meadows is a multi-purpose sports facility and home to the city's equestrian show jumping complex. It also houses ATCO Field, a 6,000-seat soccer stadium and home of the city's soccer team, the Cavalry FC.
---
Southwest
Perfect for those who enjoy a quieter lifestyle with a slower pace, southwest Calgary boasts convenient amenities and great recreational opportunities. Neighbourhoods here, like Lakeview, are family oriented and primarily made up of single-family homes. However, condos and apartment rentals are also available.
Points of Interest:
Glenmore Reservoir – A large reservoir and dam located on the Elbow River, the Glenmore Reservoir is the city's primary source of drinking water. Home to the Glenmore Sailing Club, the reservoir also offers recreational opportunities, including sailing, fishing, rowing and canoeing.
Heritage Park – Built with the aim of connecting people with the history of settlement in Western Canada, Heritage Park is a living history museum in the southwest quadrant of the city. Spanning 127 acres, the park has three main areas: Heritage Park Historical Village, Gasoline Alley Museum, and Heritage Town Square.
---