Best Neighbourhoods in Vancouver
Best Neighbourhoods in Vancouver: 2022 Guide
With a reputation for being one of the most livable cities in the world, newcomers from all over Canada and the world flock to Vancouver. But what's all the fuss about? What makes this city so desirable?
The obvious answer is its natural beauty, of course. A lush rainforest nestled between stunning mountains and the Pacific Ocean, the city and its surroundings are simply breathtaking. However, there's more to Vancouver than stunning scenery. It's also made up of diverse neighbourhoods teeming with personality. Find the perfect vibe in this sought-after city with our guide to some of Vancouver's best neighbourhoods.
---
Trendiest Neighbourhoods in Vancouver
Leaving behind its "no fun city" reputation, Vancouver attracts residents from across Canada and around the world. We'd argue that's thanks in large part to the city's trendy neighbourhoods. Also known as some of the best neighbourhoods in Vancouver, these areas are coveted for their beauty and energy by long-time residents and newcomers alike.
---
West End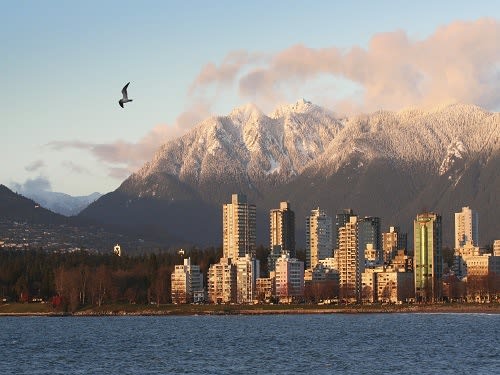 Walk Score: 95
Transit Score: 89
Frequently voted the best neighbourhood in Vancouver, the West End is the city's most iconic neighbourhood. Tucked neatly in the downtown core, it's bordered by Stanley Park and the Vancouver seawall on one side and bustling city streets on the other. In addition to making this area stunningly beautiful, its waterfront location makes it home to some of Vancouver's best beaches, including the famous English Bay.
In the summer, the West End is a lively hub of activity hosting everything from the city's to the international fireworks competition, the Honda Celebration of Light.It also makes up an important leg of many of the city's runs, like the Lululemon Seawheeze.
When it comes to amenities, there are countless dining and entertainment options here. Grocery stores, specialty food shops, liquor stores, and anything else you might need are all within walking distance in the West End. The neighbourhood is also within walking distance, or a short transit ride, from the downtown core's shopping district. Speaking of transit, several bus lines connect the West End to major transit lines that take riders all over the Greater Vancouver Area.
Though this area of the city is in high demand, there are plenty of residential options to choose from. Many apartment rentals are available in buildings ranging from wood frame low rises to divided heritage homes to upscale high rises with amenities.
---
Kitsilano
Walk Score: 92
Transit Score: 74
Across the Burrard Street bridge, you'll find Kitsilano, another one of the best neighbourhoods in Vancouver. Centred around hip West 4th Avenue and stunning Kits Beach, the lifestyle in this part of the city is active and lively. Along West 4th, you'll find boutique fitness studios and trendy shops, including Lululemon's first retail location. Restaurants along this busy street, and cross-street Yew Street, cover every cuisine, style, and price point. Popular choices include AnnaLena, Nook, and Sophie's Cosmic Café. Looking for a post-workout snack or coffee? Check out 49th Parallel Café, Platform 7, The Only Café, and Cartem's Donuterie—to name just a few.
Kits has a lot to offer when it comes to the day-to-day necessities, too. You'll find two Safeway grocery stores, a Whole Foods, and a host of independent grocers in this part of the city. From May to October, residents stroll through a weekly farmer's market stocked with local produce and other locally made goodies.
Residential options in Kits are as diverse as this hip area's residents. The neighbourhood is home to older low-rise wood frame buildings, newer condo buildings, and single-family homes. Residents who prefer to rent have a world of options here, ranging from charming suites in older walk-ups to newer apartment buildings to basement suites to entire homes.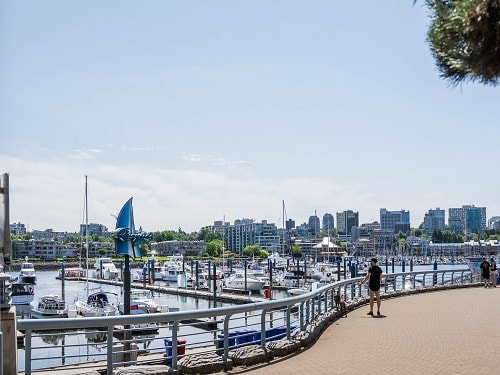 ---
Yaletown
Walk Score: 96
Transit Score: 100
By far the trendiest neighbourhood in Vancouver, Yaletown is a favourite among young professionals. Drawing visitors from all over the Greater Vancouver Area, most of the action in this neighbourhood is centred around Mainland and Hamilton Streets. Lining these two cobblestoned streets, you'll find a mix of upscale and casual eateries along with lounges and trendy coffee shops. Self-care is taken as seriously as entertainment in this part of town, with a high concentration of spas, salons, fitness studios, and medical spas. And let's not forget about the shopping: small boutique stores carry the latest styles in apparel and home décor.
When it comes to essential amenities, Yaletown is equipped with high-end grocery stores and a Skytrain station that links the neighbourhood to the downtown core and other parts of Greater Vancouver. Greenspaces include a large park that stretches along the seawall, which is home to a marina lined with yachts.
Surrounding Mainland and Hamilton streets are polished condo buildings with a mix of rental and owned properties.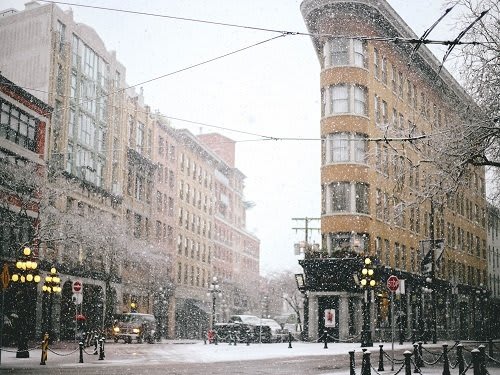 ---
Gastown
Walk Score: 97
Transit Score: 100
Home to some of the city's coolest coffee shops, lounges, bars, and restaurants, Gastown has a rich history and the aesthetic to match. Warmly lit cobblestone streets are lined with heritage buildings, giving this neighbourhood a European feel that's unique to this part of the city. An old steam clock, countless souvenir shops, and the Hotel Europe—resembling a mini New York City Flatiron Building—draw tourists to this charming neighbourhood.
Residents of this area enjoy a number of conveniences, like being within a few minutes' walk of the city's busy downtown and business core. Waterfront Station, one of Vancouver's major transit hubs, is also conveniently located in this neighbourhood. Grocery stores, stylish boutiques, and independent fitness studios make life in this part of the city dynamic and convenient.
Residential options in this part of time are primarily made up of updated condo spaces in charming heritage buildings.
---
Best Neighbourhoods in Vancouver for Families
Picturesque tree-lined streets, gorgeous green spaces, and countless conveniences make the following areas among the best neighbourhoods in Vancouver for families.
---
Fairview & South Granville
Walk Score: 93
Transit Score: 81
A sprawling neighbourhood stretching from the Burrard Bridge to the Cambie Bridge, no list of the best neighbourhoods in Vancouver would be complete without Fairview. Conveniently located a short drive or transit ride from downtown, it draws families, young professionals, seniors, and everyone in between. That said, the area's hip urban vibe, unbeatable amenities, and proximity to downtown make it ideally suited to young families. Transit, retail shops, grocery stores, acclaimed restaurants, and stunning green spaces are all conveniently located throughout the Fairview area.
Fairview is equipped with countless grocery stores, including large chain stores and small independent grocers. Most notably, one of the area's main attractions, Granville Island, has a large market with fresh, high-quality produce and specialty food items. Toy stores, artist's studios, restaurants, beautiful views of downtown, and manicured green spaces make Granville Island a popular weekend outing destination for families. Traveling further south along Granville, is one of the city's popular urban shopping areas. Here you'll find boutiques selling upscale home décor, mid to high-end fashion boutiques, and several modern furniture stores.
This area is home to some of Vancouver's most notable restaurants, including beloved Indian restaurant, Vij's, and award-winning fine dining restaurant, West. The ever-popular casual chains, Cactus Club, JOEY, and Earls also have locations here, along with many other options for casual and convenient dining.
Residential options in this area include apartments, condos, single family homes.
---
Metrotown
Walk Score: 60
Transit Score: 67
Part of the sprawling Greater Vancouver Area, the Metrotown neighbourhood is located in the city of Burnaby. Centered around the largest mall in British Columbia, Metrotown Centre, this neighbourhood is ideally equipped with all the amenities to make family life convenient.
A three-storey shopping complex, Metrotown Centre has over 450 shops and services, including popular retail and restaurants, a movie theater, and a grocery store. A central hub in Burnaby, the area surrounding the mall is home to countless restaurants, fast-food chains, stores, and coffee shops.
For those interested in living in this area, there are many residential options ranging from single-family detached homes to condos to apartment rentals of any size and configuration you can imagine. Many buildings in the area even feature great amenities, like gyms, pools, and saunas.
---
North Vancouver
Walk Score: 77
Transit Score: 56
Just across the water from downtown is the City of North Vancouver, one of the best neighbourhoods in Vancouver for outdoorsy types. Even though it's technically a suburb, this area is so close to the bustle of the city it's tough to keep the two separate. Nestled at the base of the North Shore mountains and known for its hiking trails, this area draws families and outdoor enthusiasts to its idyllic tree-lined streets.
The ideal mix of recreational opportunities and conveniences makes this neighbourhood the perfect place to call home. Running daily errands shouldn't take you far from the area's main shopping area on Lonsdale Avenue. At the bottom of this street, you'll find the seabus terminal to downtown and the Lonsdale Quay Market. Similar to Granville Island Market, Lonsdale Quay has produce and specialty food stands along with a variety of boutiques.
There's a lot to do in North Vancouver. Restaurants in the area range from small and independent to casual chains to upscale. Fitness studios, green spaces, the North Shore mountains, and hiking trails offer endless recreational opportunities.
---
Best Neighbourhoods in Vancouver for Students
Student life can be stressful, especially in a new city, but choosing a neighbourhood with the right mix of conveniences and transit options can really make the experience unforgettable. Here are the best neighbourhoods in Vancouver for students of the Greater Vancouver Area's two main universities, the University of British Columbia (UBC) and Simon Fraser University (SFU).
---
Point Grey
Walk Score: 77
Transit Score: 69
One of the most enviable areas in Vancouver, Point Grey is an affluent family-oriented neighbourhood that's popular among students at the University of British Columbia. Located just east of the university, this picturesque neighbourhood has a lot to offer families and students alike. For starters, it has an impressive three times the average park space per person compared to any other area in Vancouver. This includes the lush green trails of Pacific Spirit Park and several popular beaches: Jericho, Locarno, and Spanish Banks. With all this green space, there are plenty of ways to enjoy the great outdoors year-round in Point Grey.
Shopping and dining in Point Grey are concentrated around two main areas: the intersection of 10th and Alma and West Point Grey Village, located along 10th heading toward the university. However, the neighbourhood's proximity to popular shopping and entertainment areas in Kitsilano and Downtown means that residents of this area are spoiled for choice.
Good public transportation and plenty of arterial roads, complete with bike paths, connect this neighbourhood to UBC and the rest of the Greater Vancouver Area.
While residences in the area are primarily made up of single-family detached homes, the neighbourhood is slowly coming around to more densely populated strata properties. In the meantime, rentals are typically entire homes or suites within homes.
---
Brentwood
Walk Score: 68
Transit Score: 74
Another Burnaby neighbourhood, the Brentwood area has become a hub of convenience in recent years, making an area that was historically geared toward families and students at Simon Fraser University much more appealing to a greater diversity of residents.
Though this suburban neighbourhood has always been equipped with a mall, recent development has added an incredible number of new shopping and dining options. Residents in the area have several grocery chains to choose from, including a newly built Whole Foods. Casual restaurant chains like Cactus Club, JOEY, Earls, and Brown's Social House make dining out convenient. Of course, there are plenty of fast-food joints and coffee shops for something quick, too.
What makes Brentwood so attractive to students, and increasingly young professionals, is its location along a main SkyTrain line that connects Burnaby to Vancouver and the rest of the GVA. Of course, it also makes getting to SFU very convenient.
With many parks and fitness studios in the neighbourhood, Brentwood residents are just as committed to their recreational pursuits as any other Vancouverite. Thanks to the SkyTrain, they can also venture further afield for recreational opportunities.
When it comes to residential options, Brentwood has it all! Choose from single-family detached homes, suites within those homes, strata operated condo buildings, and apartment rentals. Though prices are steadily growing, thanks to recent development in the area, it is still more affordable than living in the City of Vancouver while being exceptionally accessible.
---