Best Neighbourhoods in Calgary: 2021
Best Neighbourhoods in Calgary: 2021 [Updated]
A thriving city, Calgary has much to offer residents, but each neighbourhood comes with its own flavour, lifestyle, and conveniences. So how do you decide which one you want to call home? Well, there are definitely elements of personal preference, but certain comforts and characteristics make some areas more desirable. With access to amenities, convenience, recreation and entertainment in mind, we've developed a list of some of the best neighbourhoods in Calgary.
Mission
WalkScore: 76
TransitScore: 65
A trendy neighbourhood with a rich history, life in Mission is focused around lively 4th Street. Here you'll find some of the city's most notable restaurants, with cuisines ranging from European to Mexican to Japanese, and everything in between. Join a stein-holding competition at popular German pub WURST, enjoy authentic Mexican with a modern twist at Añejo or dive into the dizzying array of breakfast options at Calgary breakfast favourite, OEB. French boulangeries, cool coffee shops and trendy boutiques offer plenty of ways to while away the afternoons. If it's after dark entertainment you're after, you won't have to venture far with craft beer pubs, karaoke bars, and cocktail lounges lining 4th Street and 17th Avenue.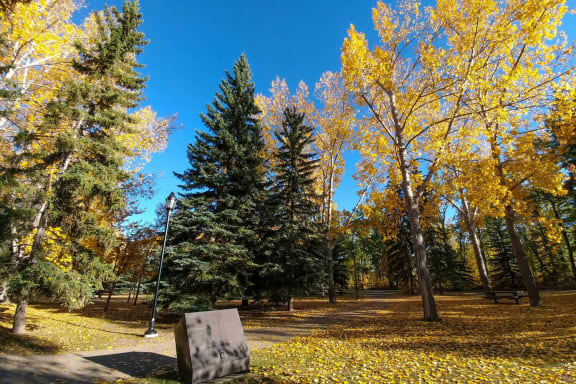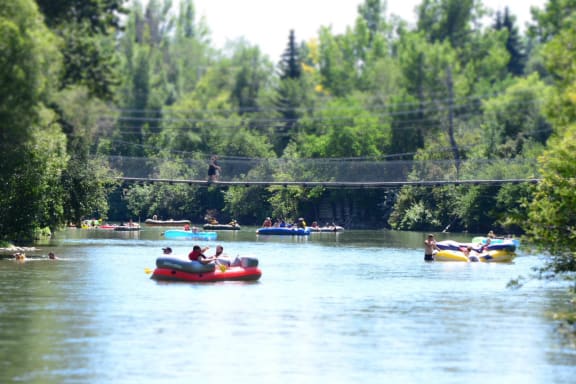 There's no question that Mission is an entertainment hotspot, but it also boasts a number of other niceties that make it one of the most coveted neighbourhoods in Calgary. With a major supermarket and several specialty grocers in the neighbourhood, stocking up on the essentials is ultra-convenient. Neighbouring Beltline offers a number of other options that are close enough to take advantage of as well. When the sun is shining, the trails along the Elbow River and Lindsay park offer the perfect setting for a picnic, walk, or bike ride. In colder temperatures, jump into one of five pools at Repsol Centre or sweat it out in a group fitness class at one of the area's many specialty fitness studios. With high walk and transit scores, you can easily access all of this and even reach the downtown core in just 20 minutes on foot and 10 minutes on transit.
Nestled between bustling 4th Street, 17th Ave and the Elbow River, you'll find quiet streets lined with a range of residential options from single family homes to modern condo developments to apartment rentals.
Beltline
WalkScore: 91
TransitScore: 80
Photo via Project Bike Rack
With so much to love about the Beltline, it's no surprise that it's one of Calgary's most populous neighbourhoods. From young professionals to families to seniors, everyone is clamouring for a little slice of this trendy, energetic neighbourhood. This is, in large part, thanks to the conveniences you'll find in the Beltline, which include a mix of retail, restaurants and green spaces. Two major supermarkets and a myriad of specialty stores make grocery shopping not just convenient but enjoyable. Just south of Downtown, the Beltline is a walker's paradise with a wide range of transit options that make it possible to get around without the need for a vehicle. Not just walkable but pleasant to walk through, you'll find gorgeous green spaces here, including Central Memorial Park, a city favourite.
With a hip vibe, the Beltline's lifestyle is active and energetic with new restaurants opening every day. Residents enjoy the outdoors year-round but especially during the summer months when the Calgary Stampede grounds are in full swing and patios are bustling with diners. A balanced mix of high-end restaurants and affordable coffee spots leave a lot to be explored in this neighbourhood. Popular choices include Monki Breakfast Club & Bistro, Pigeonhole, and I Love You Coffee Shop.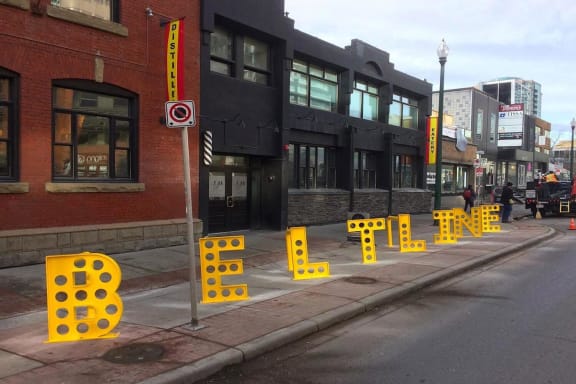 If it's shopping you're after, 10th, 11th, and 12th Avenues SW are known as the design district where you'll find art galleries, modern furniture showrooms and décor shops. Stop into Kit Interior Objects on 11th Avenue SW and find the perfect contemporary piece for your inner-city home. Book lovers won't be disappointed by the selection at Shelf Life Books and weekly readings and events.
With condos and apartments making up the majority of the Beltline's residential options, this area is perfect for professionals and young families who are happy to trade in a back yard and lengthy commute for a vibrant, walkable community with all of the amenities. Whether you prefer a walk-up with character or a polished high rise with all the luxuries, you'll find something that fits your lifestyle and budget in this popular Calgary neighborhood.
Downtown
WalkScore: Core 91, West End 87
TransitScore: Core 87, West End 84
If you like to live, work and play in one convenient area, lively Downtown Calgary has everything you need. In addition to being the first stop for many visitors to the city, Downtown has a lot to offer residents. For starters, Downtown Calgary has the country's second highest number of head offices, which, for many residents, means they're a short walk or transit ride from work. Luckily, this area is a dream for commuting (if you can call it that), thanks to a well-developed transit system, including the C-train which you can ride free of charge within the Downtown core. On foot, residents have the advantage of The Plus 15 network of sheltered pedestrian walkways, making the city accessible even on cold winter days.
Most major cities offer great shopping destinations and Downtown Calgary is no exception. Spanning three city blocks, The CORE Shopping Center houses 160 retail stores in four levels. It's the city's busiest shopping center with approximately 250,000 visitors per week! The CORE is a destination for luxury goods and apparel in Calgary but if that's not your speed, Chinook Center with its 250 retailers, including major department stores, is easily accessible via the C-Train.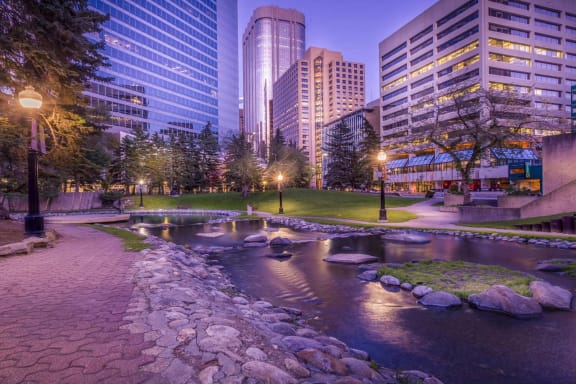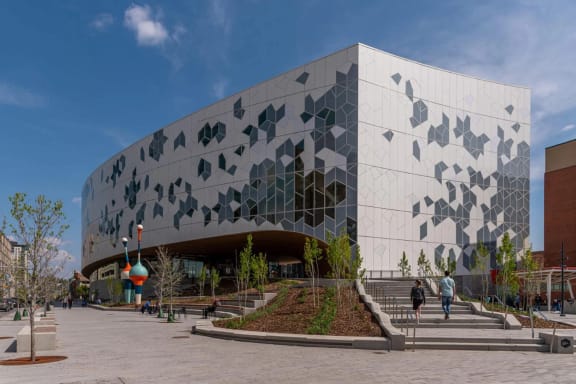 When it comes to entertainment, Downtown Calgary just can't be beat. Dine at some of the city's best restaurants, like iconic steakhouse Saltlik, or dive into the city's cocktail culture at Proof or Untitled Champagne Bar. Whether you're into top 40, country, hip hop, or EDM, you'll find a nightclub to suit your tastes and keep you dancing into the night in Downtown Calgary. In fact, why stop at just one? Fear not if you stay out too late, the neighbourhood also has an exceptional coffee culture.
Don't let the concrete jungle appearance of Downtown Calgary fool you, the neighbourhood offers plenty of options for recreation as well. Fitness studios and recreation facilities, like Olympic Park's outdoor skating rink, are plentiful. There are also a number of parks and greenspaces to enjoy.
One of the best things about Downtown Calgary is the rich arts and culture scene. You'll find a number of captivating galleries to browse, like the Stephen Lowe Art Gallery, which features fine art from distinguished Canadian artists. If you're interested in architecture, noteworthy examples, like The Bow and McDougall Centre, are within walking distance. Music and theater lovers will appreciate Studio Bell National Music Center and Vertigo Theater. Most notably, residents of Downtown Calgary have convenient access to the New Central Library, a beautifully designed 240,000 square foot functional space that houses over 450,000 books, free community meeting areas, a performance center and so much more.
Residential options in Downtown Calgary are centered around apartments and condos with a range of amenities suited to professionals and families alike.
Lakeview
WalkScore: 30
TransitScore: 45
Tucked between Glenmore Trail SW and Crowchild Trail SW, Lakeview overlooks the north shore of the beautiful Glenmore Reservoir. Just 10 kilometres from the city center, a strong community and a range of creature comforts make Lakeview a great place to stay connected while escaping the hustle of the inner city.
Stock up on groceries at the conveniently located IGA and Calgary Co-op or take a drive to Costco in Fairview. Chinook Centre and Westbrook mall are also easily accessible by car, via major roadways like Glenmore Trail. Transit options in the area include the C-train, which gets you Downtown in just 20 minutes.
An active community and plenty of recreational spaces make Lakeview a great place to live and raise a family. Indoor facilities at Mount Royal University, just to the north, include an indoor swimming pool and squash courts. For outdoor adventurers, Weaselhead Flats has trails ideal for hiking and cycling as well as great cross-country skiing. Earl Grey Golf Club and Calgary Rowing Club offer more outdoor diversions ideal for the summer months. The Lakeview Community Association hosts several events throughout the year to keep residents engaged. Get to know your neighbours and enjoy wine tastings, Oktoberfest and karaoke nights.
Bella Roma Restaurant and Bar offers a fantastic local choice for diners in Lakeview while a short drive to neighbouring Glamorgan opens a world of other options including Indian, Vietnamese, and Japanese cuisine. Nearby Scotiabank Theater Chinook and many Downtown options offer plenty of entertainment opportunities to Lakeview residents.
Lakeview is a family-oriented neighbourhood, though its proximity to popular outdoor recreational areas and Mount Royal University means it also attracts a fair share of professionals, students and educators. Residential options are dominated by single-family homes, but condos and apartment rentals with fantastic facilities are also available.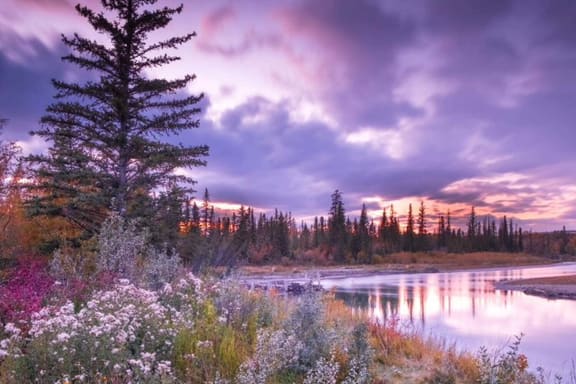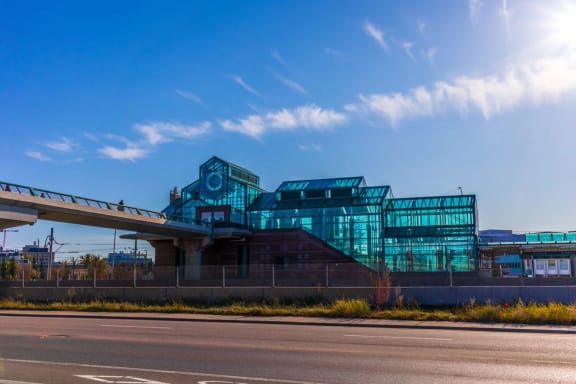 Brentwood
WalkScore: 53
TransitScore: 60
Another family-friendly neighbourhood, this time in the northwest quadrant of the city, Brentwood is a favourite with students. Named top in the city for recreation, Brentwood is the perfect neighbourhood for sporty families and active students. Located between Nose Hill Park, Shaganappi Trail, Crowchild Trail and the LRT line, this neighbourhood makes all the conveniences of Downtown Calgary accessible while allowing residents to enjoy a quieter residential setting.
With the perfect blend of recreational opportunities and amenities, Brentwood's popularity comes as no surprise. Two shopping centers, a number of large supermarkets and several speciality grocery stores make day to day errands extremely convenient. Thanks to the neighbourhood's location just south of Nosehill Park, Brentwood residents enjoy hiking and biking in this spacious park. For those who prefer indoor recreation, the Sir Winston Churchill Aquatic & Recreation Centre and Brentwood Sportsplex have a lot to offer. Nearby restaurants and pubs serve cuisines ranging from Italian to Indian to Asian fusion and the trendy dining spots and lounges of Downtown Calgary are just a short drive away.
What makes Brentwood the perfect neighbourhood for students is its proximity to educational institutions and the availability of a range of residential options. Students attending the University of Calgary or SAIT will enjoy a short commute either by car or public transit. While residential options in the area are dominated by single-family detached homes, rentals area also available. With many affordable options, Brentwood has a unique edge over other Calgary neighbourhoods when it comes to appealing to students.
Varsity
WalkScore: 49
TransitScore: 59
Located just north of the University of Calgary campus, Varsity is another popular neighbourhood among students. With easy access to shopping, entertainment and a number of beautiful outdoor spaces, this neighbourhood offers the perfect balance for student life and beyond. In fact, this neighbourhood has a higher proportion of residents in their 20's than other areas in the city.
Treelined streets, parks and a lot of green space makes Varsity enjoyable for leisurely walks and recreational activities. The Silver Springs Golf & Country Club offers another recreational opportunity. The nearby university, local eateries and proximity to Downtown Calgary and other neighbouring communities give residents of Varsity plenty of entertainment opportunities.
Shopping in the area includes Market Mall and nearby Brentwood Village Shopping Center. There are also plenty of supermarkets, delis and specialty stores in the area. With parts of Varsity built with pedestrians in mind, getting around this neighbourhood on foot is quite enjoyable, with many students walking to the University campus. However, distances can be large so public transit or access to a vehicle are beneficial.
With three distinct development areas with their own styles of residences, Varsity has a diverse community with an eclectic vibe. This also means there is a wide range of residential options, from upscale single-family homes to condos and apartment rentals. Regardless of the development they choose to live in, new residents of Varsity quickly discover that this neighbourhood is exceptionally friendly. This offers the perfect welcoming energy for students who have never lived away from home or those who are new to the Calgary area.