Inspired by Brigitte Bardot and the Celtic Goddess of Fire
TWO CALGARY RESTAURATEURS ARE AT THE HELM OF AN INNOVATIVE RESTAURANT THATS A BELOVED PART OF THE COMMUNITY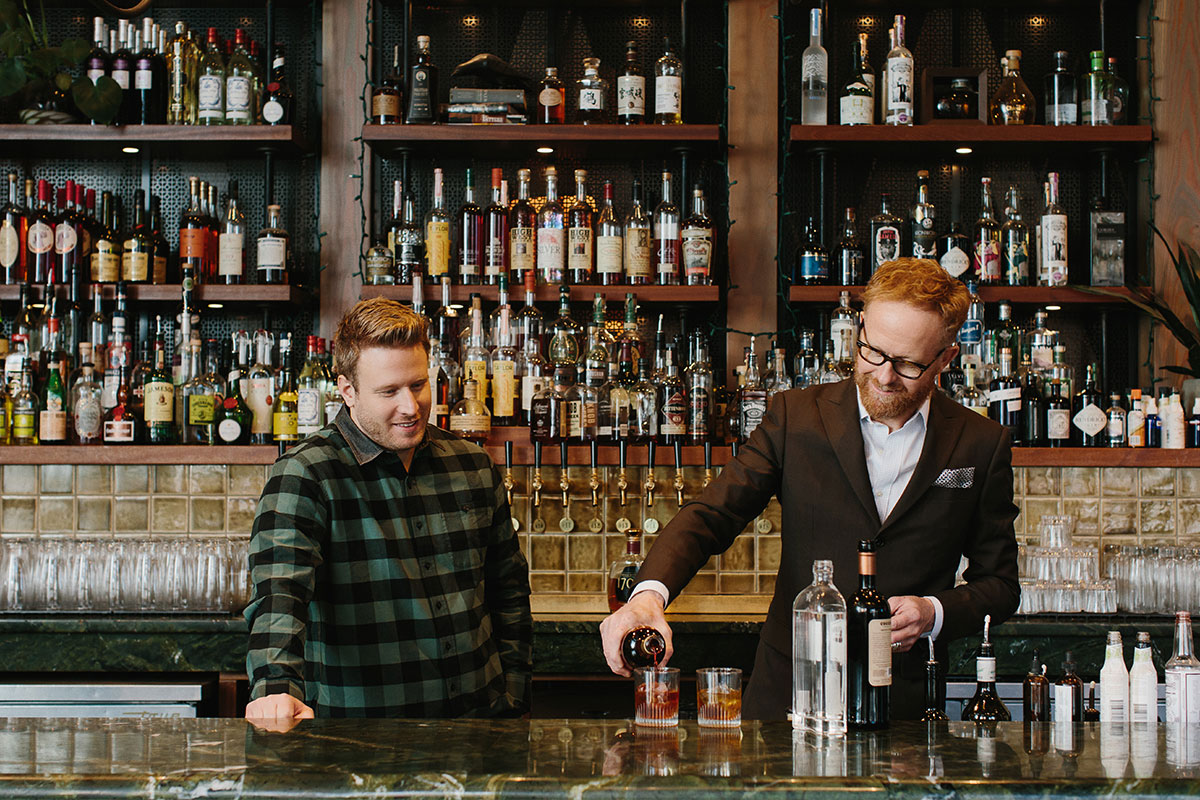 MEET DEWEY & JP
BRIDGETTE BAR
How, we wonder, do people come up with ideas for restaurants? For Bridgette Bars General Manager Dewey Noordhof and Chef JP Pedhirney (and the team at Concorde Group), it all started with Brigid, the Celtic goddess of fire. Our concept is basically built around wood-fired cookery, says JP. I wanted to create seasonal dishes that benefit from a wood-burning oven. We were inspired by Brigid, the Celtic Goddess of fire, and then we pulled in the idea of Brigitte Bardot as well, to balance things out.

The restaurant (which, yes, features portraits of Ms. Bardot) features a menu that centres on wood-fired dishes, such as rosemary-laced lamb, wood-roasted ling cod and an assortment of pizzas. Its the kind of comfortable, homey place where you can just kick back with a glass of wine and a plate of oysters, and watch the chefs work their magic.

Besides their innovative wood-fired fare, one of the coolest things about Bridgette Bar is its location in the Beltline. Housed in a century-old building that was formerly used by Lake of the Woods Milling Company (Five Roses Flour), it still retains much of its original character, in the true spirit of the area.
Culture in this area is definitely moving forward. And that makes it a pretty exciting place for us to be.
I love the Beltline because theres such a unique mix of modern architecture right next to classic architecture, says Dewey. Were excited to see the transitions going on in this neighbourhood. For decades, the city kept developing outwards, but now were really seeing lots of progress here.

Dewey adds that its the people who inspire him the most. People here arent following the same program as people used to, he emphasizes. They dont need the yard and the house and the white picket fence. They are people who want to be urban dwellers, who like the urban vibe, and being part of the neighbourhood culture.

Inevitably someone will ask me what our demographic is, he laughs. But we dont think in terms of a specific type of person. I will say, though, that the people who like coming here tend to be open-minded and well-travelled. Theyre interested in new types of food, more unique restaurants, nice art galleries, things like that.

The best compliment I get is that this area doesnt feel like Calgary, adds Dewey. Its not that Calgary isnt great. But the culture in this area is definitely moving forward. And that makes it a pretty exciting place for us to be.